Oral Cancer Screening

Montgomery, NY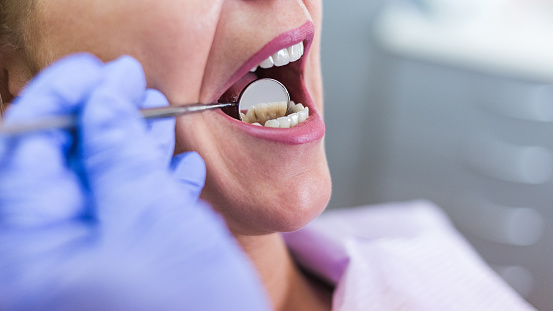 Cancer screenings are exams looking for the conditions and early signs of cancer before a person has any symptoms. The mouth's soft tissues will show precancerous conditions that could potentially lead to oral cancer. Abnormalities that are found early can help prevent cancer from developing too far. When a person starts to show symptoms, cancer may have begun its spread. An oral cancer screening can be performed by dentists, nurses, or doctors but most commonly dentists. At Masci & Hale Advanced Aesthetic and Restorative Dentistry our team is trained in effectively screening our patients.

It is important to remember that cancer is largely unpredictable. Proactive screenings are the most effective method in preventing cancer so if our dentist suggests that you get an oral screening, it doesn't necessarily mean that you do have cancer. Scientists are still researching cancers to better understand their causes and conditions and why people get them. These studies can help doctors better recommend who should be screened for cancer, what type of treatment they should get, and how frequent their tests should be.

People should be screened for oral and oropharyngeal cancers annually starting around the age of 18. If a person uses tobacco products, screenings should commence at the age they begin use. Screenings are quick, painless, and non-invasive procedures.


General Information On Oral Cancer

According to the Oral Cancer Foundation, close to 54,000 Americans will more than likely be diagnosed with oral cancer this year. Of those individuals, approximately 57% will still be alive in five years; a number that has only slightly improved in decades. The increase is credited to an increase in HPV16-caused cancers that are more vulnerable to existing modes of treatment; oral cancer rates are still high.

Historically, the oral cancer death rate is not affected by the cancer type being particularly difficult to detect or treat. Oral cancer is routinely discovered late in its development, at this stage successful treatment becomes increasingly difficult. Another obstacle in the fight against oral cancer is the emergence of the virus HPV16. The virus has significantly increased the rate of oral cancer; it typically emerges in the posterior region of the mouth, the base of the tongue, the tonsils, and the oropharynx. The lack of visibility in these areas makes oral lesions and discolorations harder to detect with routine screenings.


Oral Cancer Detection And Prevention

Oral cancer is dangerous because it may not be noticed by the patient in the early stages. It can thrive without producing pain or recognizable symptoms, and has a high risk of producing second primary tumors. With regular visits to Masci & Hale Advanced Aesthetic and Restorative Dentistry, our dentists can see or feel pre-cancer tissue changes. It may appear as a red or white area in your mouth, or a small ulcer that looks similar to a canker sore and may be hard.

Due to there being so many benign changes in the tissues of the mouth, a bite on the side of your cheek or a canker sore, it is important to have any discoloration of your mouth that does not get better within 14 days, looked at by a professional including any sores. Other symptoms include: a painless mass or lump felt on the inside of the mouth, difficulty in swallowing, painful swallowing, chewing, or speaking, and hoarseness that may last a while. If you are experiencing any of these symptoms please call 845-769-0160.