Dental Exam

Montgomery, NY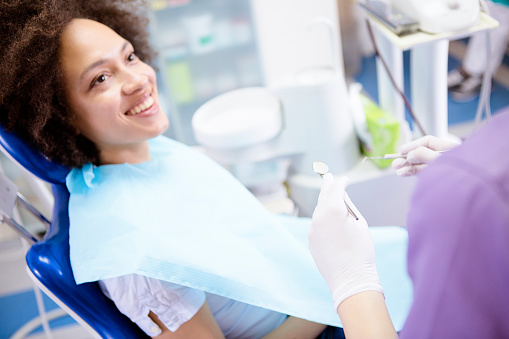 Keeping up with your oral hygiene necessitates that you visit the dentist every six months. These preventive dentistry visits are dental exams by default, their frequency determined by the health of your mouth. Your dental exam and dental cleaning may be scheduled together. The dentist will visually inspect your mouth's hard and soft tissues for abnormalities as part of normal periodontal maintenance and care. The cleaning will almost always follow the dental exam. Dental exams may not be required every time you visit the dentist. The American Dental Association recommends having a dental exam every six months. If you are looking for a primary dentist, reach out to the offices of Masci & Hale Advanced Aesthetic and Restorative Dentistry.


Discussing Concerns With Your Dentist

A way to help the dentist diagnose any issues regarding your oral health is to discuss any concerns you may have. No concern is too insignificant to ask. Any current symptoms will be a huge help to our dentist. Your medical history intake will help us identify any allergies you may have or lifestyle habits that affect your oral health.


Oral Cancer Screening

Most dentists will conduct a cancer screening during your dental exam. This will include a visual exam of the soft and hard oral tissues for any apparent lesions, sores, tumors, discolorations, or other areas of concern. A visual exam will not be enough to conclude whether or not the area is cancerous or not. If the dentist finds an area that needs to be investigated further they may refer you to an oral surgeon for a second opinion or to take a biopsy to send to a lab for further investigation.


Dental Exam Procedure

Dental exams are performed by either a general dentist or a dental hygienist. Any dentist will be assisted by a dental hygienist if cleaning is required. General dentists differ from dental specialists as they offer a wide, more routine array of services necessary to sustaining oral health. Dental hygienists perform oral health assessments and dental cleanings, use their interpersonal skills to motivate patients to practice good oral hygiene and give instruction on how to prevent oral disease.

The first stage of a dental exam is your medical history intake. The examiner will ask you several questions to build a file on your oral health. You will be asked to offer information regarding your allergies, whether you smoke or consume alcohol, and the medications you are taking. Dentists are required to ask if you have any medical conditions for which you are undergoing treatment. We will ask about any previous dental treatments you've had, surgeries, and your experience with anesthesia.

After your medical history intake, we can begin the examination. The exam is a thorough investigation of your teeth, gums, jaw, and supporting structures. X-ray machines are an essential and common tool used by dental practitioners to identify dental abnormalities in a dental exam. The dentist will first take a full mouth x-ray and in future visits will spot check any problem areas. X-rays are not usually required for every dental exam. Exposure to radiation from x-rays is low, however, if you have any concerns about radiation exposure you should consult the dentist.

Oral problems can be hard to notice without help from a trained dentist. Left untreated, they can develop rapidly into painful and expensive conditions. Masci & Hale Advanced Aesthetic and Restorative Dentistry will ensure your oral health is on the right track with regular visits and biannual exams. Schedule an appointment with our office today at 845-769-0160.