ClearCorrect

Montgomery, NY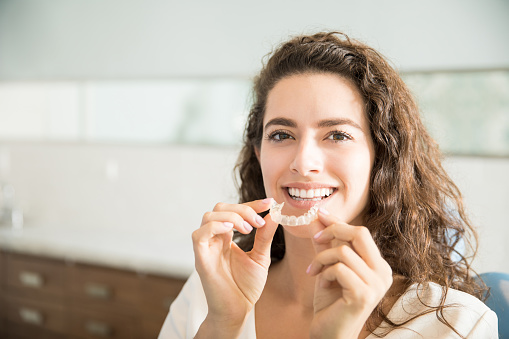 ClearCorrect is an orthodontic tooth straightening treatment plan. The treatment takes up to a year. It is a series of removable plastic liners that straighten your teeth with minor adjustments. They are a popular alternative to metal braces for people who value the discretion and lifestyle flexibility they provide. Data is inconclusive on whether ClearCorrect is the best treatment for correcting overbites. ClearCorrect can straighten crowded teeth, correct bite issues, and close teeth gaps. ClearCorrect liners, or "trays," are not as noticeable as metal brackets and multicolor bands. They fit snugly over your teeth but are fully removable, making eating easier and your dietary options aren't as limited. One of our dentists at Masci & Hale Advanced Aesthetic and Restorative Dentistry would be happy to provide you with a consultation if you are considering ClearCorrect.


Comparing Braces With ClearCorrect

ClearCorrect treatment allows patients a discrete transition from misaligned teeth to a straightened smile. They involve minimal components. Most of the time only the trays are needed, for some people the trays may have a few brackets and bands attached to the trays. Brackets and dental cement that are used with braces have been known to leave noticeable decalcification spots when removed from the teeth. The cement can stick to the teeth after the braces are removed. This residue has to be removed later by a dentist if not fully removed by the orthodontist. ClearCorrect trays are fully removable and require no adhesives to attach to the teeth.

People who wear braces are advised to avoid gum, sticky foods like caramel, and hard foods like apples, anything that can get stuck in the brackets or damage their braces from biting down on. ClearCorrect trays don't have such dietary restrictions. You can remove the tray before eating and put it back on right after. ClearCorrect trays can be left on if you are drinking water and clear, sugar-free, non-acidic liquids. The tray should be removed if you will be drinking anything other than water or clear fluids, to avoid staining and plaque buildup. Trays may have tiny nodes called buttons, and rubber bands are secured to these buttons. Another unique variant of ClearCorrect is attachments. They are bonded directly to the tooth, trays click onto the attachments, and allow more complex movements.


More on ClearCorrect

If you are considering ClearCorrect, reach out to our team at Masci & Hale Advanced Aesthetic and Restorative Dentistry for a consultation. One of our dentists will give you a dental examination to assess your oral health and orthodontic situation. We will determine whether or not you qualify for treatment and share with you the timeline and procedure for ClearCorrect. ClearCorrect uses 3D imaging to make your trays instead of impressions. The imaging is used to adjust your new trays the right amount each time and track the progress of your treatment from start to finish. Throughout your treatment, during each visit, our dentist will give you multiple trays to last until your next appointment. We will give you instructions on how to wear the trays and how to clean them. Typically you will visit our dentist every six to eight weeks during treatment. Call us at 845-769-0160 to schedule a consultation for ClearCorrect or for more information.