Dental Crown

Montgomery, NY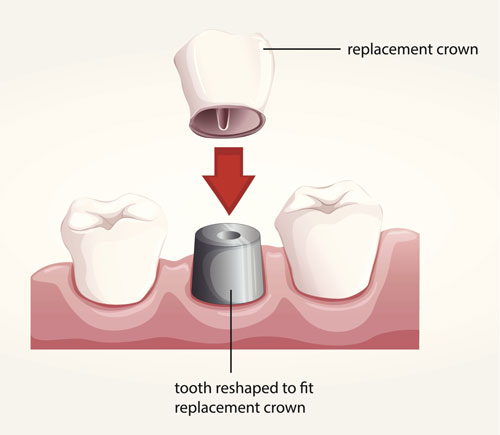 Crowns are prosthetic teeth meant to replace a chewing surface. They differ from implants because they use the natural root of the tooth to attach to the jaw, rather than a titanium implant. A crown can effectively restore the appearance, function, and strength of a damaged tooth. A few restorative dental procedures use crowns: dental bridges, root canals, and dental implants. Crowns themselves are fairly simple to install and only require two visits.

Crowns are made from several materials. On average, a dental crown has a lifespan of 10-30 years, this time differs depending on the material. There are cases where crowns have cracked soon after installation while others last a lifetime without complications. If you are interested in having a crown installed to restore a damaged tooth, it is best to do so under the advice of your dentist. Reach out to us at Masci & Hale Advanced Aesthetic and Restorative Dentistry for a consultation.


Why You May Need A Crown

Crowns serve the purpose of strengthening teeth that are damaged from decay or have undergone a root canal. If you get a dental bridge you will need a crown. Crowns are used as the abutment teeth, or anchors for the bridge to be cemented to. Crowns are used in dental implants. A titanium implant is embedded in the jaw to serve as the tooth's root, and the crown is attached to the implant to serve as the new tooth. Teeth that are weakened from decay are prone to chipping and cracking. A crown can help restore its strength and function, and save the tooth from being removed. There are existing alternatives to crowns such as inlays and onlays that can effectively restore the strength and function of a tooth, but in some cases, a crown is the only viable option.


Installing A Crown

A crown installation usually takes two appointments, one to prepare the crown and another to install it. To begin the procedure, the dentist needs to take an x-ray image of the tooth receiving the crown and its surrounding bone structure. If there is an abscess or decaying tissue a root canal may be necessary. To install the crown the tooth's nerve and surrounding tissue is numbed with an anesthetic. Once effectively numbed the tooth is reshaped with a dental drill to receive the crown. Some teeth are too small and may need to be built up with resin so the crown has enough surface area to adhere to.

In order for the crown to fit the dimensions of your bite, an impression is made of the tooth above the crown. The dentist may install a temporary crown until your next visit. While you are home, the impression is sent to a dental lab to be fabricated. Once your crown is ready, any temporary crown is removed. Your tooth is cleaned, the crown is cemented into place, and adjustments are made so it properly fits your bite.

If you are considering a restorative dental procedure like a crown, we advise you to schedule a dental exam with one of our dentists at Masci & Hale Advanced Aesthetic and Restorative Dentistry. Call 845-769-0160 to schedule an appointment or for more information.