Tooth Extraction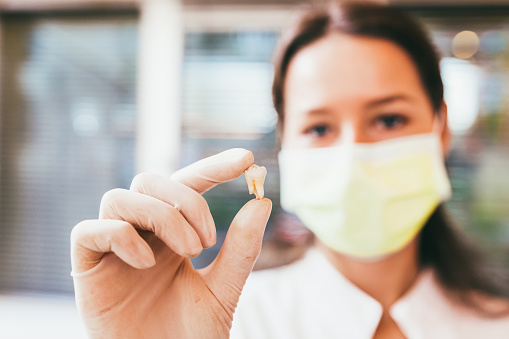 The procedure of completely removing a tooth from its socket is called a tooth extraction, it's commonly referred to as pulling a tooth. Masci & Hale Advanced Aesthetic and Restorative Dentistry strives to provide its patients with the necessary education and sustainable dental care to prevent this process from happening altogether. Keep in mind that even if you are vigilant about your dental hygiene, you still could have a tooth pulled in the future. Craniofacial injuries can cause major fractures or abscesses that render the tooth beyond saving. This is very rare. Restorative dental procedures such as implants, root canals, crowns, or bridges can restore your damaged tooth's function and appearance. If your tooth is severely decayed, its removal might be necessary.


Extracting A Tooth

Tooth extraction may be performed by a general dentist or specialist. Some cases can be more nuanced than others and might be referred to an oral surgeon or periodontist. Before your extraction, your mouth is examined to assess the damage to the outside of your tooth and surrounding soft tissues. An x-ray is taken to see if there is any internal damage to the root of the loss of alveolar bone structure.

A local anesthetic is applied to the gum surrounding the tooth, numbing the tooth and its surrounding tissues. For a tooth with minor damage, the dentist will use forceps to gently rock the tooth back and forth, detaching the ligaments and removing it from the socket. In some cases, the gum surrounding the tooth will be surgically cut and pulled away so it can be removed more easily. Teeth that are heavily decayed or broken at the gum line, are usually removed in pieces.


Healing From A Tooth Extraction

After the tooth is extracted, the now open socket is cleaned and disinfected. Our dentist will pack the socket with a small piece of gauze. This prevents excessive bleeding and helps a blood clot to develop. Sometimes, a few self-dissolving stitches will be made over the extraction site to close the gum's edges over it.

If the alveolar bone has atrophied, you may need a bone graft to prevent further bone and teeth loss. A bone graft is like a scaffolding over which your bone will regenerate. The bone graft may be tissue from your own body, synthetic tissue, tissue purchased from a human tissue bank, or an animal tissue bank.

Depending on your case, recovery time after a tooth extraction will take between 48-72 hours. It can be several weeks before the jawbone heals completely. If you are having teeth extracted for dental implants, you will likely need to wait a few months for your jaw to be ready for the implant. The implant needs a strong supporting structure before it can be installed.

This may seem obvious, but it's important to keep in mind that if you are experiencing any type of mouth pain or toothache, you should schedule a dental exam. Reach out to our team at Masci & Hale Advanced Aesthetic and Restorative Dentistry, and one of our dentists will rule out the cause, and create a treatment plan. If an extraction is necessary, we will recommend the proper aftercare and diet during your recovery. Call us today at 845-769-0160 to schedule a dental exam, or for more information.