Single Tooth Implant

Montgomery, NY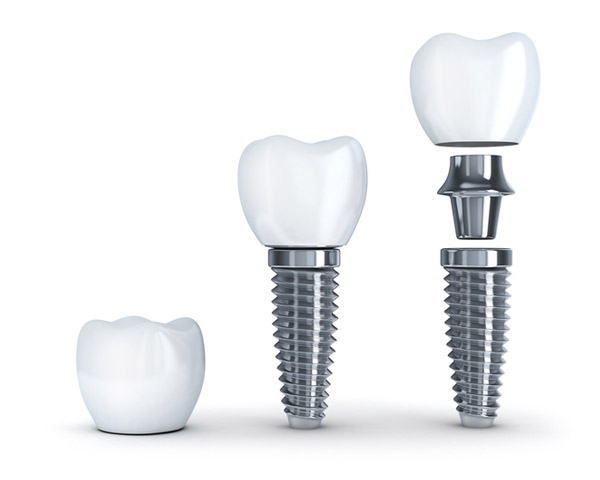 To some, losing a single tooth may not seem like a major problem. However, the loss of one tooth affects the teeth on either side of it. As those teeth slide into the space, the teeth on the other side of them can start moving out of position. Before you know it, your smile is crooked and your teeth are misaligned. Traditionally, a missing tooth was replaced by a dental bridge that was attached to the teeth beside it. Today, however, the team here at Masci & Hale Advanced Aesthetic and Restorative Dentistry can provide you with a single tooth implant.


Why Get a Single Tooth Implant?

If you have lost one tooth but the rest of your teeth are healthy, it is important to replace it. It can cause the rest of your teeth to slowly move out of position, ruining your smile and making it difficult to brush and floss correctly. You can also damage the gums where the tooth was if you bite down on something in that space.

A dental implant is a better option than a bridge for several reasons. First, it is much more durable. The implant is supported by the jawbone, not by the teeth on either side. Second, bridges typically require that the support teeth are ground down a bit in order to hold the support in place. Dental implants do not require this at all. Over time, the titanium post used in the implant fuses to your jawbone, which also helps increase the jaw's density and overall health.


How Is a Single Tooth Implant Placed?

To place your single tooth implant, we will first remove anything that remains of the tooth and ensure that the gums, surrounding teeth, and jawbone are all healthy. Next, you will come in for a surgical procedure during which we will place the titanium post. We will put a temporary cap on the post so you will have a tooth there, but you will have to wait for up to six months for the permanent crown to be placed. This is because we need to carefully watch how the post integrates into the jaw. If necessary, we may need to have you in for another procedure if it looks like the post is not integrating correctly.

Once it has, you will come in for the final crown. Once it is attached to the post, it will be a permanent part of your mouth. You likely will not need to have it replaced. We will carefully craft a crown that fits in the space and looks very similar to your natural teeth. We can even tint the tooth to match the rest of your smile so it does not stand out.


Who Should Get a Single Tooth Implant?

Anyone who has lost a tooth can talk to us about a single tooth implant. While there are some people who are not good candidates, updates in technology have made dental implants an option for a wide number of our patients. If you would like to see if you are a good candidate, call Masci & Hale Advanced Aesthetic and Restorative Dentistry at 845-769-0160 today to schedule a consultation.